Hello Cloud Marathoners,
Hybrid-cloud security and protection of digital estate across cloud is very hot topic. But there are very few tools that can cover all different clouds, even though there are myriad of third party and cloud native tools to achieve this mission.

Thus, I have compiled my takeaways on perspective from the latest Microsoft Security blog post and wanted to share back set of tools on Microsoft Azure that could help you achieve management of security poster across clouds.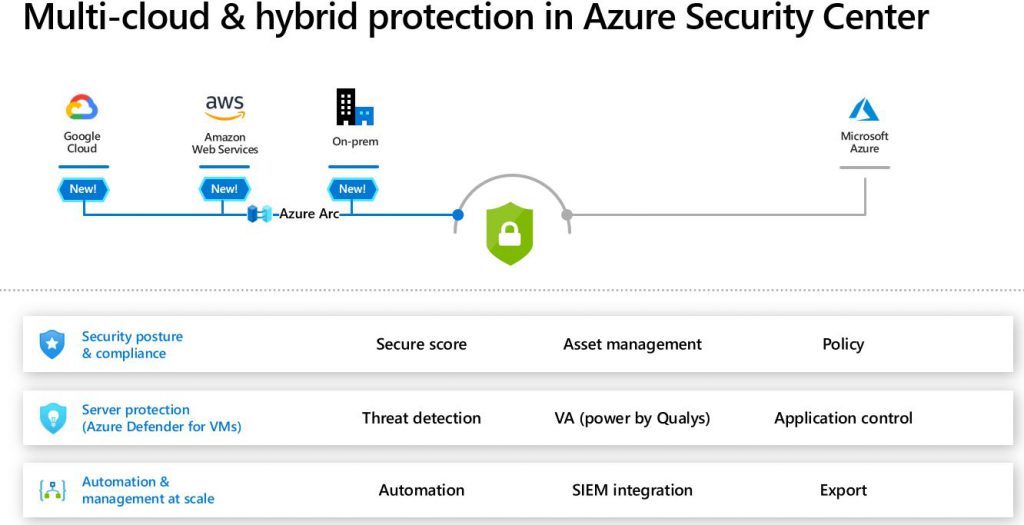 Microsoft's Azure security and management tools extend protection to your multi-cloud estate (including other CSPs like AWS, GCP, IBM, etc.)

The followings are the key services that enable it:
✔️ Azure defender for Servers
✔️ Azure Security Center
✔️ Azure Defender for SQL
Let's start with the Azure Defender for Servers.
What is the Azure Defender for Servers ?

Well, this service leverages Azure Arc to simplify the on-boarding and security of virtual machines running in AWS, GCP, and hybrid clouds.

The Azure Arc projects non-Azure resources into Azure native objects that can be managed and secured with Azure capabilities (Secure Score, Compliance Reporting, Azure Policy, Azure Defender, asset management, etc.)
Next important service visualized on a diagram is Azure Security Center.
Well, what is Azure Security Center?

This service provides a unified multi-cloud view of security posture by integrating AWS Security Hub and GCP Security Command Center detected misconfigurations and findings in Secure Score and Regulatory Compliance Experience.
And finally, let's review the Azure Defender for SQL.

This managed service constantly monitors your SQL servers for threats, whether they are hosted on-premises, in multi-cloud deployments on Amazon Web Services (AWS), and Google Cloud Platform (GCP), and in virtual machines on Azure. 
Looking for more references?
Check out a "Protecting multi-cloud environments with Azure Security Center" blog post on Microsoft blog post.
Fᴏʟʟᴏᴡ ᴍᴇ 🎯 ᴀɴᴅ become ᴀ #cloudmarathoner ⛅🏃‍♂️🏃‍♀️
#SharingIsCaring❤️️